September 9, 2015 4:20 pm
There are times when a child is in imminent danger because one or both of parents are abusive. This abuse can involve drug use, sexual abuse, physical abuse or any other imminent risk of harm to the child. Oklahoma courts take the welfare of children very seriously. At those times the court must step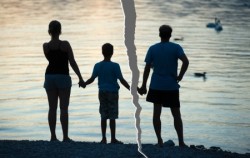 in to determine in whose custody the child should reside under Oklahoma Emergency Custody rules. If after a hearing the judge determines that harm will come to a child he will order the child removed. This court hearing occurs quickly with the intent of avoiding imminent harm.
Oklahoma Emergency Custody Hearing:
According to Oklahoma Statute, Title 43., Marriage and Family, Sec. 107.4, in order to make a motion for an emergency custody hearing, one must demonstrate that the child is currently in surroundings that will endanger their safety or cause irreparable harm. Thus, the motion must be supported by an independent report, a police report or a report from the Department of Human Services. The motion is possible to make during child custody or visitation proceedings in court. In lieu of the above documents, a notarized affidavit from a person with intimate knowledge of the child's current situation is also necessary. This must include the specific imminent harm to the child. The court must conduct a hearing within seventy two hours. Otherwise a motion can be presented to the judge who conducts an emergency custody hearing. The hearing must happen within twenty four hour of receipt of the motion.
Other Custody Questions?  See our articles on Child Custody here.
The emergency custody hearing will be a non-jury trial and evidentiary rules will apply. This means that you should hire an Oklahoma emergency custody attorney to present evidence. Your lawyer will also cross-examine witnesses and perform all of the other legal and administrative requirements. As a result, this ensures that your case presents in full to the court. If you fear for the safety of a child in Oklahoma and think that an immediate protective change of custody is necessary, please give us a call today.
Free Consultation Regarding Oklahoma Emergency Custody:
If you have question about emergency custody in Oklahoma call and get free information. Our Tulsa family and divorce attorneys can either give you the answers you need or point you in the right direction. Call today