Adoption
An adoption attorney can help to ensure that the process goes as smoothly as possible. There are several ways that adoption proceedings in Oklahoma begin. The most common we see in our office is step parent adoptions.  However,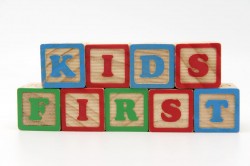 adoptions can be a result of a emergency guardianship where the parents never complete their treatment plan.  It also can be part of an Oklahoma Department of Human Services and Oklahoma Juvenile Proceeding.  Finally, it can simply exist by an agreement of the birth parents and prospective individuals desiring to adopt the child. At Tulsa Divorce Attorneys and Associates our Family law attorneys have handled all sorts of adoptions. These range from step parent adoptions, adoptions resulting from guardianship's and third party non family member adoptions.
Procedure for Adopting a Child in Oklahoma:
Oklahoma adoptions are procedurally complex. An individual wishing to proceed with an adoption in Oklahoma should consult with a Tulsa, Oklahoma adoption attorney .  This results in better understanding of potential risks of an adoption, rights during pending adoption proceedings, and numerous compliance laws.
The first step in proceeding with an adoption in Oklahoma is to establish who is going to adopt from who; complete a statement of full disclosure with the Oklahoma adoption attorney that establishes the legal duties and obligations of both the prospective adoptive parents and the attorney; and establish whether or not parental rights need termination.
If necessary, upon a filing Petition for Adoption, the adopting party must concurrently file pleading establishing whether a parent consents to the termination of their parental rights and subsequent adoption or a pleading terminating the parents rights for cause.
A consent to termination must occur on the record in front of a judge with the parent giving up their rights, fully competent and fully understanding
their actions. If termination of parental rights is pursued for cause, the prospective parents must demonstrate to the court in two separate hearings. One to establish that consent is unnecessary (usually demonstrated by that parent not visiting or paying child support for a period of 12 out of the past 14 months). The second establishes that the termination of the parental rights and subsequent adoption is the best interest of the child.
How Long Does an Oklahoma Adoption Take:
Oklahoma Adoption proceedings can also be fairly lengthy, with some adoptions taking over a year to finalize. There is a delay between filing for and the approval of adoption.  This is because the court requires that the prospective adoptive parents undergo highly detailed background checks. The final approval may further delay because the court can require a pre-placement home study, a 6 month temporary order or interlocutory decree for adoption and a final post-placement home study; to see if in fact that the adoption is in the child's best interest.
Contact an Adoption Attorney in Tulsa, Oklahoma:
If you are considering adopting a child in Oklahoma and would like a Free Consultation with an adoption attorney in Tulsa, Oklahoma please call or email our law office in Tulsa Today. You will speak directly to a family law attorney who will answer your family law and adoption question's. The call is free and so is the adoption law information.