June 30, 2014 7:25 pm
A recently passed Oklahoma state law will require all couples with children to go through an education program, or "divorce school," before they are allowed to get a divorce.  The bill signed into law in early June and takes effect in November of 2014. The bill impacts all couples seeking a divorce due to incompatibility with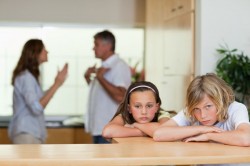 children under the age of 18. For more information call our Divorce attorneys Tulsa at Tulsa Divorce Lawyers and Associates.
The aim of the divorce school requirement is to educate parents about the effects of divorce on children while at the same time advising them about the ways and possible benefits of reconciliation.  The sponsors of the bill are state Representative Jason Nelson and Senator Rob Standridge, both Republicans.  Standridge stressed that the state should do anything it can to keep people with children together, as marriage is a lifelong contract with the state as well as with your children.
Divorce school will cost between $15 and $60 to participate.  It must be completed within 45 days of receiving a temporary order from the court.  Starting November 1, couples will have the option to opt out of the program if they can demonstrate compelling circumstances.  Standridge expressed hope that the bill could decrease the state's divorce rate, which he believes is very high.
In fact, Oklahoma has the second highest divorce rate in the country.  This latest divorce school measure is one of many attempts by the Oklahoma state legislature to decrease the soaring number of divorces in the state.  In the past several years, Oklahoma has spent millions of tax dollars strengthening families and family values.  None seemed to have much impact.
A study by the OK Marriage Initiative and Oklahoma State University found that some of the major causes of divorce in Oklahoma include a lack of commitment, too much conflict, and money problems.  Also rated high were infidelity, marrying too young, and a lack of appropriate preparation.
You may want to read this related article: The role of mediation in Tulsa divorce and family law
Tips to Help Minimize the Impact of Divorce on Kids From Divorce Attorneys Tulsa:
Oklahoman's will have to wait and see if the newest program aimed at reducing divorce rates will succeed.  In light of Oklahoma's new education program, we compiled the following tips to minimize the impact of divorce on children.
Don't let your anxiety worry your kids: While you should never stay with a spouse solely for the children, you should attempt to shield them during a divorce to minimize their stress and painful emotions. Do not vent to even older children or openly complain about the other parent or the divorce in general. Try to keep your emotions and anxiety in check, and instead lean on friends and counselors during this time.
Go to school activities to support your children: This is a time when it is extremely important to show your children you will still be just as involved in their lives as you were before the divorce. Though it can be difficult for both parents to attend events together, you should make a point to both go. You do not have to sit together but simply being there will go a long way.
Stay in communication with your ex: It can be very difficult to maintain a civil relationship with your ex spouse. However, it is extremely important to stay in communication with your ex regarding the kids. This ensures their school work and social lives do not suffer as they go between two households.
Contact Our Divorce Attorneys Tulsa:
If you are considering a divorce, the Divorce Lawyers at Tulsa Divorce Attorneys and Associates can help.  Call our Tulsa office (539) 302-0303 to schedule a free consultation to discuss your divorce options with our divorce attorneys Tulsa.